Anti-crisis Supply Chain Planning: Live Webinar Series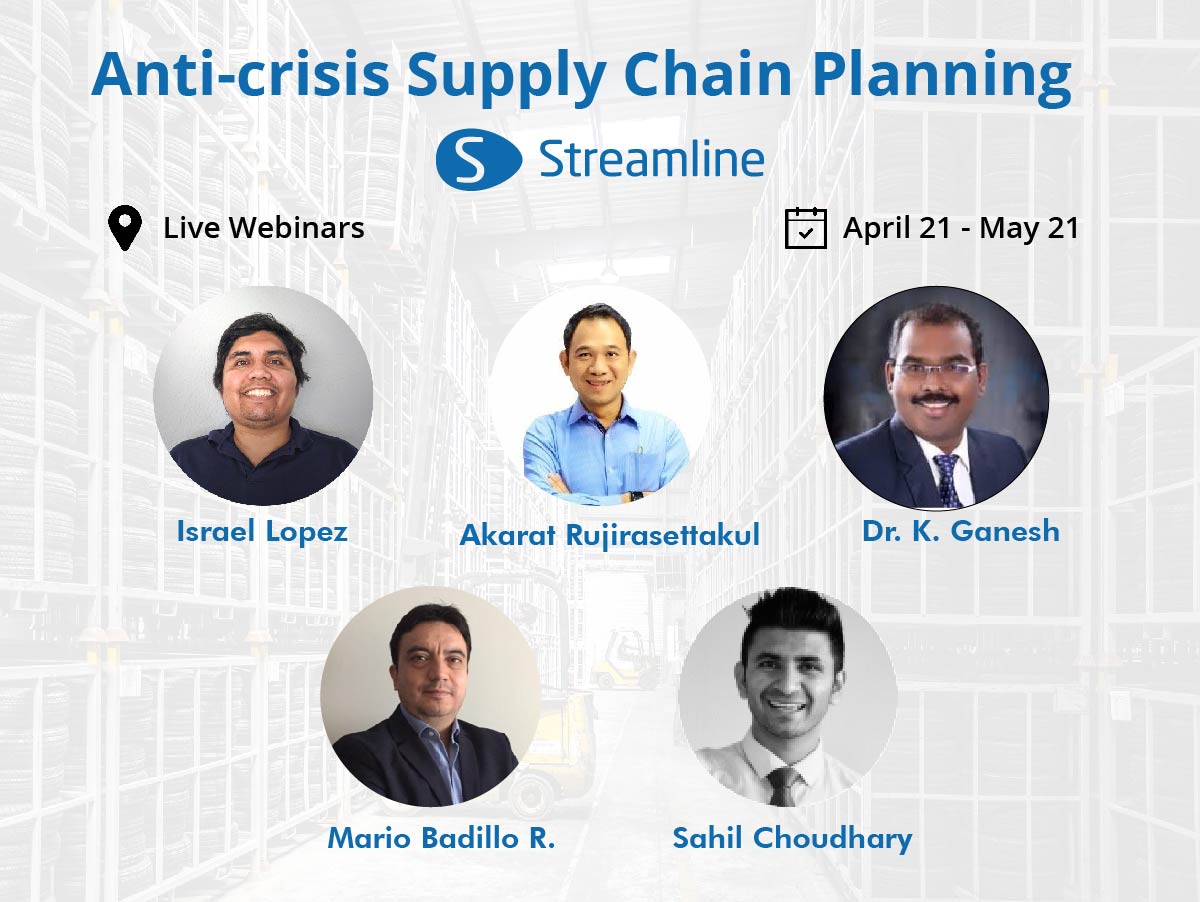 GMDH Streamline is hosting a series of webinars focused on optimization of demand forecasting and inventory planning processes during the crisis. Each week, we will connect with supply chain experts from around the globe, who will be sharing their experiences from various perspectives.
This webinar series aims to offer a shared space for communication and potential engagement for inventory planners, business leaders and supply chain experts to address key questions on how to act in the tough quarantine times.
The webinars plan:
Passed – April 21, 7 PM Indochina Time (GMT +7:00): Forecasting and budget planning with Streamline during COVID-crisis: a case study by Akarat Rujirasettakul, InnoInsights Co Ltd.
Passed – April 29, 6 PM Pacific Time (GMT -7:00):Emergency Supply Chain Planning with Fishbowl & GMDH Streamline by Israel Lopez, IL Consulting.
Postponed – May 6, 6 PM India Standard Time (GMT +5:30):Software Asset Management and precautions to take during this time to avoid attacks by Sahil Choudhary, Areneva Technologies.
Passed – May 14, 6 PM Peru Time (GMT -5:00): Excel VS software: agility and simulation capacity in inventory planning processes by Mario Badillo R., Proaktio.
May 27, 6 PM Pacific Time (GMT -7:00):How to really use QuickBooks in Full View with Streamline as a true MRP tool by Peter Butcher, Operations & IT Consultant, SSV Works.
Language: English
Meetings are free and open to everyone after registration.
Hurry up to grab your seat!
About speakers:
Akarat Rujirasettakul, CPIM, ESLog, Inno Insight Co Ltd – supply chain and logistics consultant with 20+ years of experience managing all supply chain functions including sourcing, contract manufacturing, supply planning, logistics, customer service and quality assurance for Thailand, Philippines, Malaysia, Singapore, and Indonesia.
Israel Lopez, founder Israel Lopez Consulting – has over 16 years of experience working with specialty software (Fishbowl, NetSuite, Streamline etc.), ERP systems (that function across multiple departments), custom programming, and is very familiar with the logistical/supply-chain aspects of growing companies.
Sahil Choudhary, CEO & Director Areneva Technologies – has 7+ years of practical experience in the Enterprise Software Consulting in IT Operations Management and CRM. He works with India and South Africa regions and helps companies to achieve business excellence by using the right software solutions.
Dr. Ganesh Knowledge Specialist in Supply Chain Management – Center of Competence, McKinsey Knowledge Center, McKinsey & Company, India. He is having 6 years of consulting experience in top consulting companies and cumulative of 14 years of research, teaching and consulting experience in the supply chain domain for manufacturing, process and chemical industry.
Mario Badillo R., Partner-General Manager Proaktio – has more than 20 years of experience in business consulting with technological solutions like ERP, SCP and BI. Business Advice to more than 60 companies in Colombia, Ecuador and Peru, especially in the industrial and commercial sectors. He works as Trainer in MRPII and S&OP in Colombia, Ecuador and Peru.
Too much manual work in Excel?
Streamline your planning today:
Forecast, plan, and place orders twice as fast.
90-98% reduction in stockouts.
15-50% reduction in excess inventory.
35% higher inventory turnover.
10-40X ROI in the first year. 100% ROI in the first month.
GMDH Streamline already manages over $5 billion in inventory for retailers, wholesalers, distributors, manufacturers, and ecommerce worldwide.